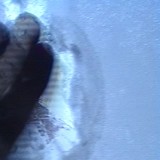 Stefan Bauer: video and original sound
Additional Soundtracks by:
Andrew Duke, Andrew Mays, Dead Violets,
Erdem Helvacioglu, Billy Gomberg, Gydja
kauders, Lepenik, maru, Paul Yates,
PYo., Sascha Neudeck, SEB...,
sound_00, Thanos Chrysakis,
Zusammenhangslos

The movie "ohrmong" was shot in January 2003 on a railway trip through Mongolia. It was an attempt to create an audio-vuisual diary, trying to communicate the artist's point of view. Watching is a selection process and hence very personal.
We do not only take in the world through our eyes but also through our ears. Especially when filming we are blinded by the equipment in a way so we are forced more than usual to trust our ears.
Following this train of thought Stefan Bauer decided to trust his ears not only while filming, but also when cutting and editing the movie. "I selected rather sounds than images and in a way composed a soundtrack, allowing the images to follow the sound. Additionally to arranging the sounds I processed them and experimented with several ways of personalizing time as a means of re-organization.The end result is a twisted road movie".
"ohrmong" premiered at Diagonale Film Festival, Graz, Austria in 2003.
For the DVD project "ohrmong" 16 composers were invited to create new scores, replacing the original soundtrack or in addition to it.
Good art imitates nature in its way of operation. It is a process, something alive and ever-changing. Just as in life, meaning is produced by the perceiver. In case of the DVD project "ohrmong" the main fascination lies in the possibilities new and different soundtracks can provide. The filmmaker's point of view modulated by the compositions, very personal works in themselves, expressing the composer's own perspective, produces interesting synergy effects.
Cover design by Stefan Bauer and maru
The DVD is region-free
You can watch a low quality preview of the movie with Stefan Bauer's original soundtrack here
Reviews:
Schöne Idee! Stefan Bauer reist mit der Videokamera durch die Mongolei, schneidet seine Eindrücke zu einem 8:30 Minuten langen Filmchen zusammen und lässt dafür verbandelte Kollegen jeweils einen Soundtrack basteln. Pluralismus Ahoi!
Rokko's Adventures